August 2014 | Read a Friend's Heart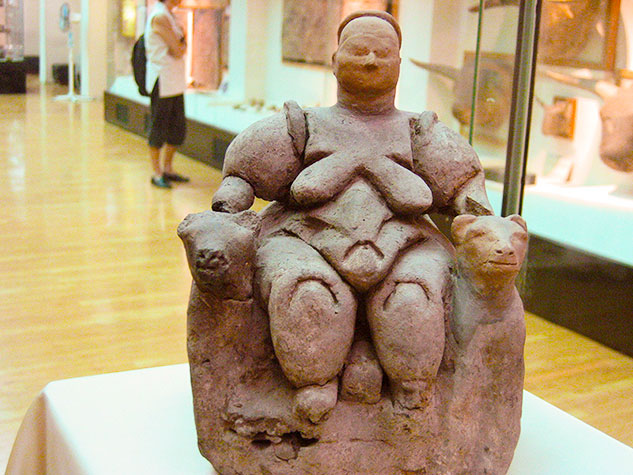 Above is a photograph of the Goddess from Catalhoyuk in Turkey. She dates approximately to the seventh century B.C., and she looks nothing like our contemporary vision of goddesses. Yet her image was remade and copied by the thousands in the Neolithic Age.
This Goddess is big, but she seems somehow weight-appropriate. As I contemplated her full figure, or that, say, of the Venus of Malta statue, something subtle changed in my anima projections. I wasn't even aware of it at first, but over time I found myself appreciating the beauty of stout goddesses where before I'd experienced nothing but shades of loathing. Surprised, I realized I even connected with the erotic qualities of these goddesses and the real women on which they were likely modeled.
During my recent travels and while walking around Ashland, Oregon, I've found myself really seeing plus-size women as if for the first time. They resemble the Goddess below, and their beauty is undeniable. Is it strange to imagine the men of Catalhoyuk worshipping this image, this fertility Goddess of birth and death? Did they see the beauty and qualities of women despite physical appearances?
If they did, then those Neolithic ancestors of ours were more gender-enlightened than we are in the West. We're bombarded by media images of feminine beauty, and so many animas are regressive as a result. Who wants the model, the one with the perfect breasts? I do, the anima cries. I do. I deserve it!
Is it mysterious to see this for what it is? We have much work to do in gender relationships, and much work to do in anima maturity. Can men convene with women to discuss this issue of image? Can it be done with love and empathy rather than anger and resentment? It takes courage, lots of it, from women and men, and I believe it can be done.
Let's begin. The elders among us need to stand up and guide initiation rites for boys—and yes, for men who never had them. Only then will the anima have a chance to hold richly diverse images of women as they truly are. Yes, let's.
Please explore my new website, which I envision as a hub for our global, gender-enlightened community.
I ask your help to spread the word. Please share with your friends and contacts. If you enjoy the videos, please Like them at Youtube. I'm grateful! I look forward to serving you more effectively from here on.
—Robert
Read & Share
Please consider reading the books below. If you like them, perhaps you can share them with friends and loved ones.
Poetry as Spiritual Practice and The More We Get Together: The Sexual and Spiritual Language of Love and other collections are available at my website, and at IndieBound, Amazon, and Barnes & Noble, or by request at your local bookstore.