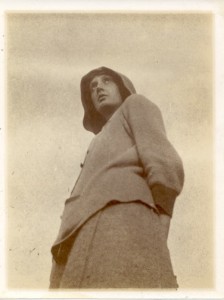 "Now then is my chance to find out what is of great importance, and I must be careful, and tell no lies." –Virginia Woolf
Yet, it was not always easy for Virginia to tell no lies. Relentlessly honest, intellectually demanding, still she loved jokes and, to some extent, gossip. Family members knew that if you wanted to keep a secret, you did not tell Virginia, though you wanted to tell her! On occasion, she enjoyed stirring pots among her friends. She would often astonish friends and strangers alike by 'going off' at a party or at tea, settling on someone for her attention, then launching into a brilliant biography of the person, which she invented on the spot. Vita Sackville-West caught this complex, wonderful character when, musing on her perfect name shortly after Virginia's death, she observed that her given name was virginal, while her married name had a hint of the fang.
Virginia was coyote, a trickster. She loved games, confidences, jokes. "Exquisite self-containment." That was her goal, and it could also be a description of the woman and artist she knew herself to be. Aflame, she lived at a pitch of ecstasy that only a genius knows.
While still in her teens, Virginia created the process by which she diligently worked at her craft, navigating through the immense canyons of bi-polar disorder to produce five great novels (To the Lighthouse, The Waves, Mrs. Dalloway, The Years, Between the Acts), a brilliant satire that is also the longest love letter in English literature (Orlando), the best criticism I've ever read (the two Common Readers), five volumes of astonishing Diaries, terrific Letters and the inspiring, feminist call-to-action, A Room of One's Own.
That Virginia deliciously haunts my waking and dream hours is an added benefit I could not have anticipated when I first met her. Intellectually, spiritually and romantically, she lifts me up. I commune and converse with her. Her unbridled, almost hooting laugh is daily music to me.
There is a wonderful way to get to know Virginia better, and that is to listen to her. I listen to her novels read aloud over and over, and I have a hot tip for you. If you can, get a recording of To the Lighthouse narrated by Virginia Leishman. Here is a link for you:
https://www.amazon.com/Lighthouse-Virginia-Woolf/dp/1419367323
Leishman is superb, beautifully modulating her voice from character to character and sounding so much like Virginia Woolf herself that it's almost eerie.
*
About ten years after her death, Vita Sackville-West and her husband, Harold, kept company on the terrace at their home (Sissinghurst). It was a fine, soft day and Vita looked up, asking her husband, "Of all the people you've ever known, who would you most like to see coming up to the house from the road?" Without hesitation, Harold said, "Virginia". "Me, too," said Vita, "me, too."
Me, too.