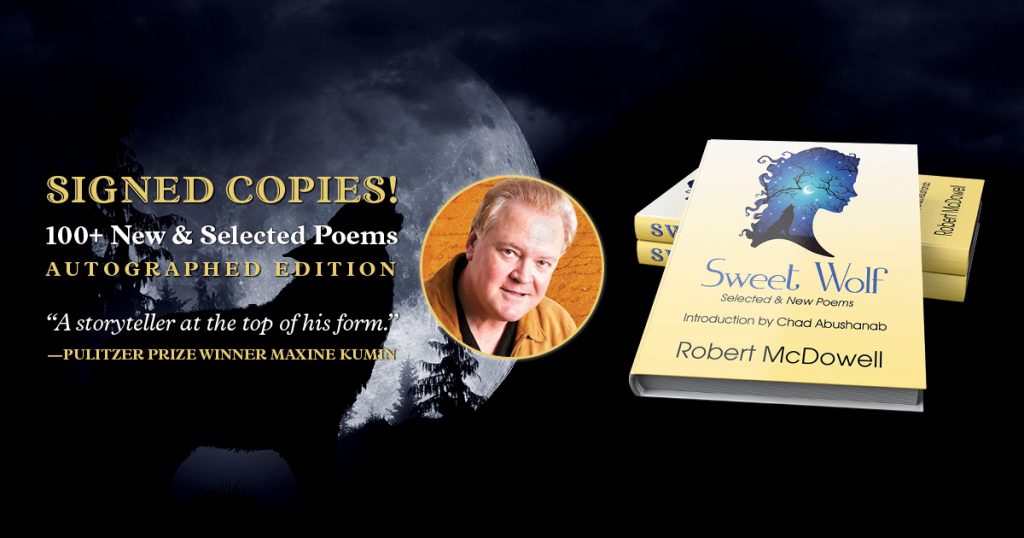 Click the button below to purchase autographed copies of Robert McDowell's latest collection of poetry, Sweet Wolf: Selected & New Poems. Featuring 100+ poems spanning his four-decade writing career, Sweet Wolf has been described as "achingly human," "brilliantly insightful," "utterly original," and "dazzling!"
Free shipping for a limited time!
Order your signed copies while supplies last.
Order Sweet Wolf
Select Reviews
"A storyteller at the top of his form."
—Pulitzer Prize Winner Maxine Kumin
"Robert McDowell's powerful narrative poems are among the best written in the last fifty years."
—Ai, National Book Award Winner
"Ultimately, achingly human."
—Pushcart Prize Winner Kim Addonizio
"An utterly original sense of the world, one brushed clean of all cant, all obscurity and confusion.… Dazzling!"
—Guggenheim Fellow Jay Parini
"Arresting, humorous, and strangely surrealistic … unfailingly sensitive to the pathos and humor that define our lives."
—Daniel L. Guillory, Library Journal
"Lyrical magic does occur, as does a fine originality."
—Robert Peters, Los Angeles Times
Order Autographed Copies of Sweet Wolf