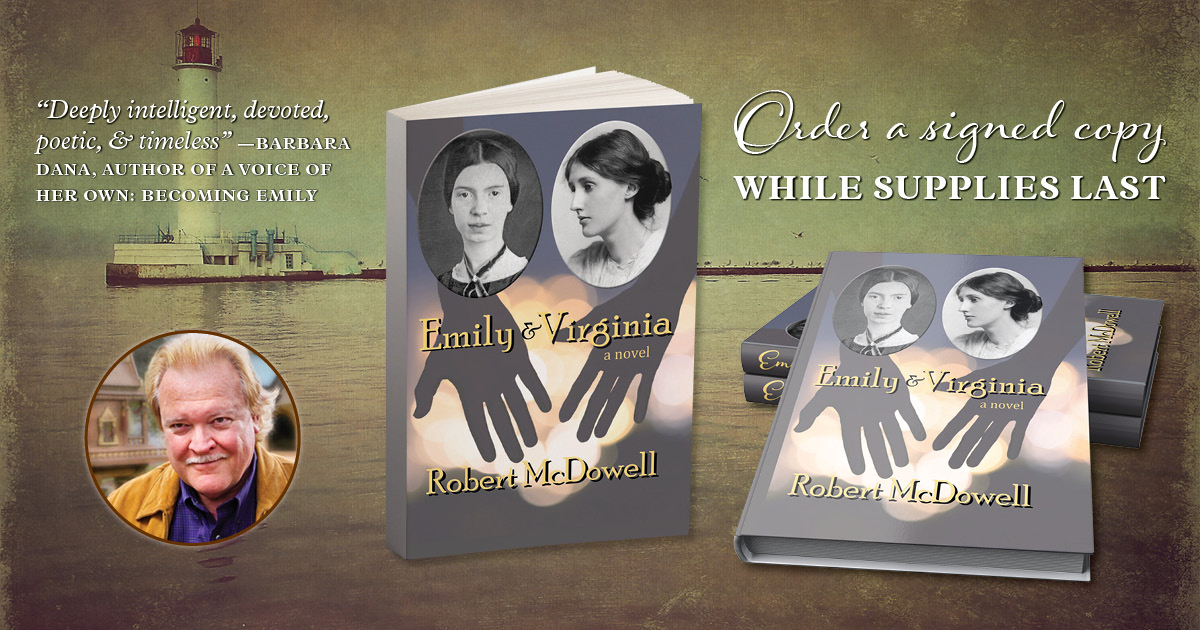 Click the button below to purchase autographed copies of Robert McDowell's new novel, Emily & Virginia. A literary time-travel fantasy of magical dimensions, Emily & Virginia brings Robert McDowell's lifelong muses Emily Dickinson and Virginia Woolf together in present-day Ashland, Oregon, where they join forces to mentor budding young writer Lily Ramsay.
Free shipping for a limited time!
Order your signed copies while supplies last.
Order Emily & Virginia
Select Reviews
"An extraordinary novel! Robert McDowell's book is deeply intelligent, devoted, poetic, and timeless, a fantasy so real you can taste it. Woven from meticulous research of the mind and heart, this meeting of Emily Dickinson and Virginia Woolf is a gem."
—Emily Dickinson Scholar & Historical Novelist Barbara Dana
"What a treat to encounter Dickinson and Woolf forging a sisterhood out of poetry, prose, and endless curiosity about the people and places around them. Robert McDowell's Emily & Virginia: A Novel is a rollicking journey through time and space, exploring literature, art, friendship, and love in smart, sparkling writing."
—Kristin Czarnecki, Past President, International Virginia Woolf Society
"McDowell makes palpable the magical ways in which poetry, fiction, words, may really be the best recourse we have for facing the agonies of loss, guilt, loneliness, and death."
—Emily Dickinson Scholar Karen Sánchez-Eppler
Order Autographed Copies of Emily & Virginia